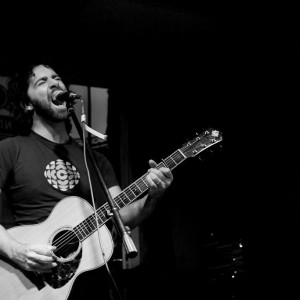 Relentless Nova Scotian road warrior songwriter and multi-instrumental sideman Kev Corbett has made a career-defining new album that is the perfect Summer road trip record. Equal parts the cerebral Folk writing that he has become known for and concise arrangements covering moods from mountain to desert, now delivered through the sonic lens of a boutique Gibson Les Paul guitar; Corbett perfectly marries the classic fingerstyle storytelling Folk upon which he cut his teeth and excels at, with a journeyman bassist/drummer's quest for groove, a sense of space, and tone. Put it on, turn it up, windows down, scream along, drum on the steering wheel as you go. This is what the road is for.
"…a beautiful snapshot of the Canadian landscape. This native Nova Scotian's voice is like no one else… all Canadian, hints of Cockburn, Cohen and Lightfoot… well-crafted and skillfully written songs… dazzling guitar playing… Corbett is a true folksinger and Son of a Rudderless Boat is a marvelous listen." – Penguin Eggs Magazine
"The man is an exceptional guitar player – for one thing – but also writes extremely clever, finessed, clockwork folk-pop songs whose singable surface belies a tremendous underlying sense of craft. It was really great to see him again." – Jowi Taylor, Six String Nation
"Corbett embodies everything that is wonderful about the song as an art form, while most folk singers today are mere shadows of great singer/songwriters." – KV Style News (NB)
BIO:
People keep telling Kev Corbett he really doesn't sound like anybody else. He's a wordy guy with a big heart. A serious guitar picker. A man who loves a great story, especially if it isn't his. He's comfortable in his own skin, not a hint of pretense.
He's experienced, too: 20 years and 20 countries' worth of touring, competitions, openers, and being an award-winning sideman and instructor. He's known for the attention-to-the-everyday of an Alice Munro, the detail and research of a Robertson Davies, the brutal frankness of a Farley Mowat, the warm-cuddliness of a Gzowski, and a work ethic of iron, to boot. He's a touring machine.
When not putting story to song or accompanying others, he also runs Savasanaface, which provides live ambient electric music for Yoga class events, and which is taking over more and more of his life with each sunrise.
Kev Corbett's newest album finds him exploring new sonic neighbourhoods and telling the stories of the people he meets there, while maintaining the sidewalk humanity and solidarity and heart and protest that define the Folk genre in which he cut his teeth. Produced by Jason Mingo and with few other studio collaborators, Corbett continues to walk a path imagining the all great players and writers meeting at the Big Tavern in the Sky, where Woody Guthrie is the bartender.
50-WORD VERSION:
Known and respected in musical circles across Canada, as a Folk songwriter of the highest order, as an award-winning utility man, as an early adopter, and a touring machine. A classic Boy Scout who knows how to rock, and tell a heck of a story around the fire.